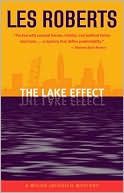 Finished 1-19-11, rating 4.5/5, mystery, 310 pages, pub. 1994
Book 5 of the Milan Jacovich series ( Book 1) (Book 2) (Book 3) (Book 4)
"But mainly we want to utilize you for security.  You'll be with Barbara whenever she makes public appearances.  You'll go in, check the microphone and the lights, and make sure she presents herself in the best possible light.  And with your police background-I told you we know all about you-you'll be right there in case any troubles starts."

"I can't imagine there being that kind of trouble in a place like Lake Erie Shores."

Her eyes narrowed just a millimeter.  "Why?  Because it's all middle-class whites?"

"No," I said quickly.  "Because…" I blushed furiously.  "I'm sorry.  I guess that's exactly what I meant."

Chapter 3
Private investigator, Milan Jacovich owes the mob family in Cleveland a favor and they are ready to collect.  They assign Milan to protect and help a candidate for mayor in an upscale Cleveland suburb.  Barbara Corns is a terrible candidate and with a week before the election Milan knows there isn't much he can do but stay close and put in his time.  The other candidate and current mayor of the city is slick and he has plans for a casino on Lake Erie that would benefit the city.  Things are pretty tame until the mayor's wife is run down and killed.  Then Milan uses his police contacts and detective talents to investigate the many people surrounding the campaigns.
I love this series.  The mystery is always good and Milan is a great main character.  He's a divorced middle-aged man with two teen boys that he sees every other Sunday and a lonely lifestyle between girlfriends.  He is a Clevelander who is proud of his Slovenia heritage and knows the streets and the people well.  As for the mystery this time around I had a suspicion, but I was wrong so another successful book by Roberts!  Any mystery lover will love this series and most Clevelanders have already discovered it.  I got started a little late so I'm just catching up, but I haven't read a dud yet.
If you are trying the States reading challenge or just want to read a book set in Ohio I would highly recommend this series.  This book is set in the 1990′s, but the series continues today so you could probably pick up any of them to get a feel for Cleveland.
I checked this book out of the library.
Top Posts

Recent Comments

Blogroll

Blog Stats

Archives

Pages
Your result for The Classic Dames Test...

Rosalind Russell

You scored 19% grit, 38% wit, 29% flair, and 29% class!

You are one wise-cracking lady, always quick with a clever remark and easily able to keep up with the quips and puns that come along with the nutty situations you find yourself in. You're usually able to talk your way out of any jam, and even if you can't, you at least make it more interesting with your biting wit. You can match the smartest guy around line for line, and you've got an open mind that allows you to get what you want, even if you don't recognize it at first. Your leading men include Cary Grant and Clark Gable, men who can keep up with you.

Find out what kind of classic leading man you'd make by taking the Classic Leading Man Test.

What Jane Austen heroine are you?