Weekends with Gage- A World of Colors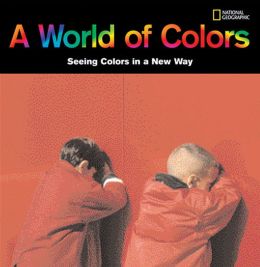 Gage has known his colors for a while, but when I saw this book at the library I thought he'd enjoy it. A World of Colors by Marie Houblon and published by National Geographic is one I can recommend enthusiastically to all kids from 2-5 or 6.  Let me start with the photos – they are gorgeous, interesting and international.  Each color has 4 pages and the text isn't something the child will read by themselves, but the text makes this book interactive so it isn't something they'd want to read by themselves anyway.  For each color it asks that you look around and find something that color and because of that it would be fun to go around the house reading it in different rooms.  Let me show you a few pages…
So sorry about the blurry pink page  but I'm including it so you can get an idea of the photos.  So after we read this I decided that tis might be a good way to start categorizing and practicing gluing abilities.  So I let Gage choose a color in the morning at breakfast and over the course of the day I collected things that he could attach to a piece of construction paper.  Next time we do something similar (and we will just with other categories) I'll let him help with the scavenger hunt (but to be honest just the gluing part was all the time Gage wanted to spend on this activity, 5-10 minutes, so I'd break it up into two activities).
Today was our last day and we did green.  Here's how it went down…
His standard pose for the camera to start.
I always think it's fun to see what he's going to choose first.  Today it was the grasshopper.
This is so blurry because this mom doesn't like to have her hands so far away from a 2 year old with glue.
After the grasshopper is a small green craft stick. I did try to have a few tactile items for each color for more interest.
Some days he would put everything I put out on there, other days he just chose a few.  Today he told me he was done and I told him he had to add 3 more things. He chose 3 dinosaur stickers.  When I asked him to point to his favorite thing he chose Kermit the frog.
His final color collection.
I have a big plastic bin where I keep old torn up books and misc. craft supplies to use for projects just like this one.  The book was the inspiration for this activity. So much fun
16 Comments »
Top Posts

Recent Comments

Blog Stats

Archives

Pages
Your result for The Classic Dames Test...

Rosalind Russell

You scored 19% grit, 38% wit, 29% flair, and 29% class!

You are one wise-cracking lady, always quick with a clever remark and easily able to keep up with the quips and puns that come along with the nutty situations you find yourself in. You're usually able to talk your way out of any jam, and even if you can't, you at least make it more interesting with your biting wit. You can match the smartest guy around line for line, and you've got an open mind that allows you to get what you want, even if you don't recognize it at first. Your leading men include Cary Grant and Clark Gable, men who can keep up with you.

Find out what kind of classic leading man you'd make by taking the Classic Leading Man Test.

What Jane Austen heroine are you?