Still Life by Louise Penny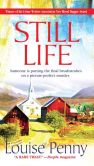 Still Life. Finished 9-1-13, rating 4.5/5, mystery, 312 pages, pub. 2005
Book 1 in the Chief Inspector Armand Gamache series.
I made a small 2013 reading list based on other blogger's best-of lists and whether I had the book or not (here). Still Life was on Staci's 2012 list and I can see why.  I am really anxious to get my hands on the next one on the series. Thanks for the recommendation, Staci! I'm guessing this will end up one of my favorites of the year too.
Is this is a cozy mystery? Yes, but it's one with that thing that makes it extra special.  To me, that means it never turns into classic caricatures following the same whodunit script.  The characters were real, even if some still have their secrets.  That can only be a good thing as the series continues.
Chief Inspector Gamache is a well-respected detected up in the Montreal area.  He is caring, thoughtful, patient, insightful, a bit of a rebel, a teacher and he gets the job done.  This was not his first case, he's been around the block a few times and I loved that it felt like I was meeting a fully developed character, not just the bare bones version that sometimes happens in the first book of a new series.
The people of Three Pines are a varied collection of characters and I was fully invested in Jane  even though she died on the first page because of the way her friends saw her.  They loved her and that made me love her. I'm actually sad that she won't be around for the next book!
It did take me a little while to get used to the writing style.  My eyes often had to drift back or forward to figure out who was talking, but once I got it I was hooked and I couldn't put it down until I knew who had killed Jane.  And there were no shortage of suspects, even to the very end.
Highly recommend to every mystery lover.
This was from my own library.
10 Comments »
Top Posts

Recent Comments

Blog Stats

Archives

Pages
Your result for The Classic Dames Test...

Rosalind Russell

You scored 19% grit, 38% wit, 29% flair, and 29% class!

You are one wise-cracking lady, always quick with a clever remark and easily able to keep up with the quips and puns that come along with the nutty situations you find yourself in. You're usually able to talk your way out of any jam, and even if you can't, you at least make it more interesting with your biting wit. You can match the smartest guy around line for line, and you've got an open mind that allows you to get what you want, even if you don't recognize it at first. Your leading men include Cary Grant and Clark Gable, men who can keep up with you.

Find out what kind of classic leading man you'd make by taking the Classic Leading Man Test.

What Jane Austen heroine are you?