Love and Logic Magic for Early Childhood by Jim Fay & Charles Fay, PhD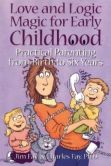 Love and Logic Magic for Early Childhood. Finished 3-5-2013, rating 4.25, 165 pages, pub. 2000
Parenting little ones can be exhausting until you discover Love and Logic. Take the exhaustion out and put the fun into parenting your little one. If you want help with: . Potty training. Temper tantrums. Bedtime. Whining. Time-out. Hassle-free mornings. and many other everyday challenges then this book is for you!  This book is the tool parents of little ones have been waiting for.  America's Parenting Experts Jim Fay and Charles Fay, Ph.D., help you start your child off on the right foot. The tools in Love and Logic Magic for Early Childhood will give you the building blocks you need to create children who grow up to be responsible, successful teens and adults. And as a bonus you will enjoy every stage of your child's life and look forward to sharing a lifetime of joy with them

from Goodreads
I don't read many how-to parenting books, but Gage has some behavioral issues and another mother recommended this to me.
Here's what I liked
This really will help make dealing with misbehavior easier.  You let go of the anger by feigning sincere empathy for your toddler/hellion.  After only a few days of trying some of these techniques my blood pressure hasn't spiked once

I like the philosophy behind it.  All that love and empathy has to be good, right?

Concrete examples of what to do in a (limited) number of situations/meltdowns.

Very fast and easy read.
Here's what I didn't like
The tone was a little patronizing and some of the examples seemed a bit too good to be true.  Not every kid is going to respond to this style and the authors seem unwilling to believe that.

The subtitle says it for ages birth to 6 years, but in reality there is very little here for the under 3 crowd and really nothing for under 2 (except to love your baby without anger and I'm not sure that really needs to be said. At least it shouldn't).
The bottom line is that I would recommend this for any mom of a toddler.  And I'm not the only one recommending it, I had to wait for it at the library and there are more parents waiting for me to return it!
16 Comments »
Top Posts

Recent Comments

Blog Stats

Archives

Pages
Your result for The Classic Dames Test...

Rosalind Russell

You scored 19% grit, 38% wit, 29% flair, and 29% class!

You are one wise-cracking lady, always quick with a clever remark and easily able to keep up with the quips and puns that come along with the nutty situations you find yourself in. You're usually able to talk your way out of any jam, and even if you can't, you at least make it more interesting with your biting wit. You can match the smartest guy around line for line, and you've got an open mind that allows you to get what you want, even if you don't recognize it at first. Your leading men include Cary Grant and Clark Gable, men who can keep up with you.

Find out what kind of classic leading man you'd make by taking the Classic Leading Man Test.

What Jane Austen heroine are you?