Mannheim Rex by Robert Pobi with a GIVEAWAY!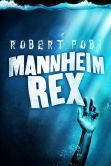 Mannheim Rex. Finished 2-20-13, rating 3.5/5, 501 pages, pub. 2012
Recently widowered and grieving, Gavin flees New York City for the quiet of the country. His new home on Lake Caldasac has surprisingly few visitors, and the author soon learns why: a suspiciously high number of people have gone missing in the small town. The deaths have all been ruled accidents, but Finn Horn, a handicapped boy obsessed with fishing, knows the truth. There's a monster in the lake. And it wants to feed. Thirteen-year-old Finn, who is dying of cancer, has only one last wish: to go down in the record books for catching a real-life monster. Battling demons of his own, Gavin joins Finn on his perilous quest to slay the nightmarish leviathan. An homage to the blockbuster Jaws and the classic American novel Moby-Dick, Mannheim Rex is a deep dark thriller that switches seamlessly between heartwarming friendship and heart-stopping action.

from Goodreads
I loved Pobi's debut thriller, Bloodman, so I eagerly said yes when offered his newest book even if was about fishing, of which I have no interest.  I've never read Moby Dick or Jaws, but the movie Jaws did make me view the beach differently in my youth,  and the comparisons between those two books and this one are fair, at least to a point.  This is a story about a monster in the lake, but I found the characters themselves and their bond much more interesting than the fishing aspect.  Gavin is a fictional Stephen King, of sorts, and when his wife is killed he loses his mind and moves to this small lake town in New York.  He meets Finn, a handicapped 13 year-old and the two from a special friendship.  He also meets Dr. Laurel who is quite a bit older than his 37 years, but the two have a spark, a connection, right from the start.  I liked the pseudo family they formed.
I thought some of the lake scenes dragged a bit and I very much disliked the last two pages.  Do yourself a favor and skip them altogether.  This was a complete departure from his thriller, Bloodman, and it's solid, if not exactly what I was expecting.  There was blood and guts, but mostly there was a lot of heart.   I will be waiting in anticipation for Pobi's next release.
So, for the giveaway, Cara at Wunderkind PR, has graciously offered a free copy to one lucky winner.  If you would like to be entered just leave me a comment with a way to reach you if you win.  If you want an extra entry post this on Facebook or post it on Twitter.  Gage will draw a winner on March 2nd.
4 Comments »
I remember your review of Bloodman because it has such a strange cover so I was intrigued by how much you enjoyed it. Jaws has me terrified of swimming in the ocean!! This one sounds interesting.

Comment by Staci@LifeintheThumb | February 23, 2013 |

You really should give Bloodman a try

Comment by stacybuckeye | March 7, 2013 |

Sounds like a great thriller. I love that Finn wants to find a monster in the lake. This book is a little different from the other thrillers that I usually read. But it is one I don't want to miss. Thanks for the chance to win it.

Comment by Anita Yancey | February 24, 2013 |
Top Posts

Recent Comments

Blogroll

Blog Stats

Archives

Pages
Your result for The Classic Dames Test...

Rosalind Russell

You scored 19% grit, 38% wit, 29% flair, and 29% class!

You are one wise-cracking lady, always quick with a clever remark and easily able to keep up with the quips and puns that come along with the nutty situations you find yourself in. You're usually able to talk your way out of any jam, and even if you can't, you at least make it more interesting with your biting wit. You can match the smartest guy around line for line, and you've got an open mind that allows you to get what you want, even if you don't recognize it at first. Your leading men include Cary Grant and Clark Gable, men who can keep up with you.

Find out what kind of classic leading man you'd make by taking the Classic Leading Man Test.

What Jane Austen heroine are you?