The Enemy by Lee Child and why you should be reading the Jack Reacher series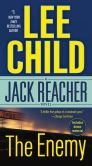 The Enemy. Finished 1-21-13, rating 4/5, 464 pgs, pub. 2004
Book 8 in the Jack Reacher series (Book 1) (Book 2) (Book 3) (Book 4) (Book 5) (Book 6) (Book 7)
She had lived through desperate times and she had stepped up and done what was necessary.  At that moment I started to miss her more than I would have thought possible.  At that moment I knew I would miss her forever.  I felt empty.  I had lost something I never knew I had.

Chapter 19
Jack Reacher, loner extraordinaire, wasn't always such a hard man.  There was a time when he had a job, a family and friends.  He was a star in the military police force and he was content with life.  This story of his time at Fort Bird was quite a departure for Reacher and I liked it but Reacher didn't feel completely known to me either.  This is a military police procedural with some mom and brother time thrown in for fans.  His mother's storyline was powerful.  I liked the change of pace, but am looking forward to the roaming Reacher with nothing but a toothbrush to take on the world.
Why should you be reading the Jack Reacher series?  Because he's alpha male dreamy.  He isn't held back by rules but is ruled by what is good and just and he's not afraid to get his hands dirty in the pursuit of justice.  He's a tall, commanding man who, if you count the number of women he's charmed out of their clothes, knows his way around a woman's body.  Wonder if I can get Reacher to take a bus to Cleveland?
I found this paperback on my shelf and was ready to read it after seeing the Jack Reacher movie.
21 Comments »
Top Posts

Recent Comments

Blogroll

Blog Stats

Archives

Pages
Your result for The Classic Dames Test...

Rosalind Russell

You scored 19% grit, 38% wit, 29% flair, and 29% class!

You are one wise-cracking lady, always quick with a clever remark and easily able to keep up with the quips and puns that come along with the nutty situations you find yourself in. You're usually able to talk your way out of any jam, and even if you can't, you at least make it more interesting with your biting wit. You can match the smartest guy around line for line, and you've got an open mind that allows you to get what you want, even if you don't recognize it at first. Your leading men include Cary Grant and Clark Gable, men who can keep up with you.

Find out what kind of classic leading man you'd make by taking the Classic Leading Man Test.

What Jane Austen heroine are you?