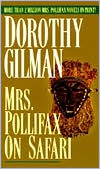 Finished 4-18-12, rating 3.5/5, mystery, 223 pages, pub. 1976
"I don't know why I'm telling you all this-probably because I'll burst if I don't tell someone, and you look so-so human-but Africa's having the most tremendous impact on me.  Ever since we arrived I've been having the strangest dreams at night, and seeing life and myself in the most astonishing perspective.  This country's returning me to something I lost, it's disinhibiting me."

Chapter 7
Mrs. Pollifax is a widower in her 60′s and instead of settling down to garden club meetings she has become an improbable asset to the CIA.  The missions never seem to be dangerous, at least until Emily arrives on the scene, and this assignment is no different.  She is excited to be assigned the job of taking pictures on an African safari.  Not bad, right?  Well, it ss a great experience until she goes and gets herself kidnapped.
I read a few of the Mrs. Pollifax series way before I became obsessed with reading series' in order, so I was happy to find her future husband on the safari.  Cyrus is a big man instantly smitten with the seemingly retiring Mrs. Pollifax.  It was nice to see Emily appreciated.
There was a safari tour full of suspects and an old CIA friend in the area somewhere, causing Emily to come under suspicion from many quarters.  The mystery was good, as was the description of Africa's political plight (circa 1976).  I love the feisty Emily Pollifax.  She is smart, resourceful, and full of sass.  She is constantly underestimated and always rises to the challenge.  I enjoyed visiting with her after all these years.  A quick and satisfying read.
I recommend this series to cozy mystery fans and fans of Agatha Christie's Miss Marple.
I checked this book out of the library.
Top Posts

Recent Comments

Blogroll

Blog Stats

Archives

Pages
Your result for The Classic Dames Test...

Rosalind Russell

You scored 19% grit, 38% wit, 29% flair, and 29% class!

You are one wise-cracking lady, always quick with a clever remark and easily able to keep up with the quips and puns that come along with the nutty situations you find yourself in. You're usually able to talk your way out of any jam, and even if you can't, you at least make it more interesting with your biting wit. You can match the smartest guy around line for line, and you've got an open mind that allows you to get what you want, even if you don't recognize it at first. Your leading men include Cary Grant and Clark Gable, men who can keep up with you.

Find out what kind of classic leading man you'd make by taking the Classic Leading Man Test.

What Jane Austen heroine are you?