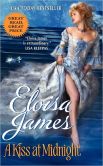 A Kiss at Midnight. Finished 5-4-13, rating 4.25/5, romance, 370 pages, pub. 2010
Kate is 24 and lives at home with her stepmother and stepsister.  Forced to attend a ball acting as her sister, Kate meets Prince Gabriel and the expected sparks fly.  Only Kate is pretending to be betrothed to his cousin and he is expecting the arrival of his future princess.  What will happen?  I'll never tell

This is the retelling of Cinderella, but aside from the evil stepmother and Kate wearing glass shoes one night I didn't really see it.  The beginning with Kate's stepmother seemed so separate from the rest of the book.  I liked Kate and Gabriel, enjoyed their interaction and really did feel their connection.  I felt it so much that the dueling storylines of what was keeping them apart seemed thin, like there should have been more.
That being said I enjoyed this lighthearted romp and liked the many characters at the palace for the ball.  Gabriel had a kind heart and was one hot prince!  Kate was a smart enough heroine, the men seemed to respond to her wit which I liked.  Overall I had fun with this one.
This was from my personal library.
Top Posts

Recent Comments

Blogroll

Blog Stats

Archives

Pages
Your result for The Classic Dames Test...

Rosalind Russell

You scored 19% grit, 38% wit, 29% flair, and 29% class!

You are one wise-cracking lady, always quick with a clever remark and easily able to keep up with the quips and puns that come along with the nutty situations you find yourself in. You're usually able to talk your way out of any jam, and even if you can't, you at least make it more interesting with your biting wit. You can match the smartest guy around line for line, and you've got an open mind that allows you to get what you want, even if you don't recognize it at first. Your leading men include Cary Grant and Clark Gable, men who can keep up with you.

Find out what kind of classic leading man you'd make by taking the Classic Leading Man Test.

What Jane Austen heroine are you?